FAQs – Graduate and Doctoral
What do I need to know about academic regalia?
Traditional students attending classes on campus must pick up their regalia at the Magee-O'Connor Theater in Andorfer Commons. Please remember to remove your gown from the packaging a week before the ceremony to remove the wrinkles. See the card inside of the package for details.
Non-traditional students, doctoral students and traditional students taking classes fully online will receive information to individually order their regalia, which will be shipped to them.
Can I decorate my cap?
Yes! Please be tasteful as we have the authority to make you remove anything that could be deemed offensive.
When do I arrive?
Graduates should arrive one hour prior to the ceremony. Remember that Indiana Tech is in the Eastern Time Zone.
What to bring
Cap and gown, tassel, hood, name card, and cords (if applicable). Please do not bring additional personal items as there will be no place to secure them.
Prohibited items
The following items are not permitted inside the Schaefer Center:
Outside food and beverage
Animals (other than those used as a service animal)
Umbrellas
Bottles, cans, large bags or coolers
Laser pointers
Air horns
Weapons of any kind
Selfie sticks
If you are unsure about whether or not you can bring any other belongings inside, please contact Security and they will be able to assist you.
When will I get my real diploma?
You will receive a diploma cover at commencement. Your degree will be officially conferred after you have been academically and financially cleared. Upon successful completion of your course requirements, you can begin the clearance process. Your diploma will be shipped via UPS within approximately four weeks. Diplomas will be shipped to the address submitted on the Petition for Graduation. Two official transcripts will be included. Please note, UPS will not ship to a P.O. Box.
Tickets
Indiana Tech commencement ceremonies are free and open to the public, contingent upon direction from local health authorities.
Parking and directions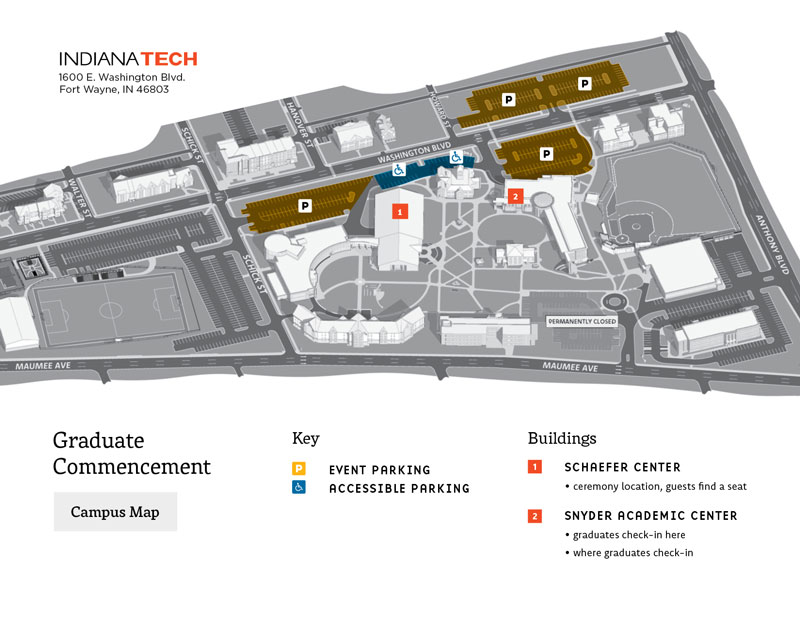 Indiana Institute of Technology, 1600 E. Washington Blvd., Schaefer Center, Fort Wayne, IN, 46803
Parking is free and it is best if you come into the parking lot off E. Washington Blvd.
Accessibility (ADA) seating
The Schaefer Center will have accessible seating with companion seat(s.) Please request information from an usher when you arrive. Accessible parking is available in front of the main entrance to the building. Vehicles using accessible spaces must display the appropriate hang tags or license plates.
Sign language interpreters
Guests who require interpreting services must let us know prior to the event. Please contact the Registrar's office with questions regarding this.
How do I walk up to the stage?
You will be released from rows one at a time in dual lines. Walk toward the podium, stop in front of the marshal and hand them your name card. When you hear your name, walk to the dean, take your diploma cover with your left hand and shake hands with your right hand. Walk to the center of the stage and shake hands with President Einolf as your picture is taken. You will then proceed down the center aisle to the formal photo area before returning to your seat.
Photography
King Shots Photography will be taking photos as graduates receive their diploma on stage as well as a formal shot. Graduates will be emailed proofs a week after the ceremony with instruction on how to purchase photos. There is no obligation to purchase. For more information, email Neil King, owner/president of King Shots Photography, at neil@kingshots.com.
Live-stream
The ceremony will also be live-streamed for those who are unable to attend.
Emergencies and evacuation procedures
In the event of a medical emergency or evacuation, please see a member of the event staff, usher or law enforcement official and follow their direction.
Smoking policy
There is no smoking permitted on campus. You may use the city sidewalk for all smoking.
Indiana Tech Alumni Association
Welcome to the Indiana Tech Alumni Association. Stay connected and explore the benefits available to alums on the Alumni website. Once a student, always an alum.
Show your school pride with a special Indiana license plate.
Tech Treasures Gift Shop
Tech Treasures is the university's gift shop. Located in Andorfer Commons adjacent to the dining hall, a variety of Indiana Tech merchandise from apparel, drink-ware, memorabilia and accessories can be found. Tech Treasures will have items for purchase during commencement.
Want to send your grad a gift before the ceremony? Check out our online gift shop.
Hotel accommodations
Hotel Accommodations can be found on our visitors site.
Questions?
If you have questions regarding the graduation process, or to verify if you have completed the requirements for graduation, please contact the Registrar's Office at 800.937.2448, ext 2320, or graduation@indianatech.edu.
Additional resources